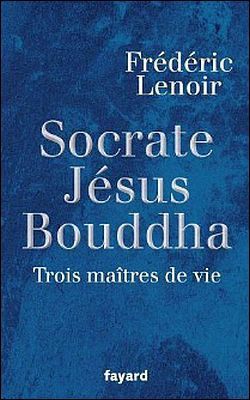 Non-Fiction, 290 pages, June 2009 –
"Fascinating and instructive" – Le Figaro –

A fascinating look at the communality and enduring relevance of three of history's most influential figures.   Socrates, Jesus and Buddha have each, in their own way, shaped the modern mind; their messages and philosophies are three cornerstones of the way we think. Through years of research, Frédéric Lenoir has come to understand that their teachings converge on a number of critical points. In his new book he looks at the origins of these three monumental figures, and how their common message of individual responsibility and tolerance remains as pertinent as ever.
How did these men come to their vocation? What do we know of their childhoods, their families, their personal lives? Each was revolutionary in their time, breaking substantially with the traditions and received wisdom of the era, but none of them wrote anything down themselves.
Their teachings have reached us via the lessons and transcriptions of disciples, sometimes only being written down many years later. What impact has this oral interpretation had on their message? What did they actually say themselves and what has tradition subsequently added? Lenoir tackles all of these questions, comparing across the three figures, as well as analysing both the content and form of their teachings.
He discovers that at the heart of all of their ideas is the notion of a personal spiritual quest that was instrumental in creating a new kind of man: an autonomous individual, responsible for his choices and actions, and not beholden to any group. This message, which so powerfully overturned the prejudices, dogmas and rites of their respective periods, still has much to teach us today.
Socrates, Jesus, Buddha will surprise and enlighten laymen and experts alike.
Translations (country / publisher)
Brazil: Objetiva
Bulgaria: Colibri
Germany: Piper
Holland: Ten Have
Italy: Mondadori
Japan: Kashiwashobo
Korea: Minumin
Romania: Editura Paralela 45
Thailand: Kobfai Publishing