God's goodness
Following an inter-religious encounter, a priest, a rabbi, an imam and a Buddhist monk find themselves mysteriously locked up in a small room... with no possible communication with the outside world. Prisoners of an inevitable face-to-face, they engage in a debate as lively as it is tasty where beliefs and differences clash.


Authors: Frédéric Lenoir and Louis-Michel Colla
Artists: Roland Giraud, Saïd Amadis, Jean-Loup Horwitz, Benoît NGuyen Tat
Director: Christophe Lidon
The play's book was published by Albin Michel in January 2009.
 

Renaissance
On January 29, 30, 31 and February 1, 2013 , while the followers of Mayan pseudo-prophecies had watched in vain for the end of the world , a show took place in Paris (at the Théâtre du Gymnase) telling the story of our time like that of the end of a world and a possible rebirth.
Photo gallery by clicking on the poster: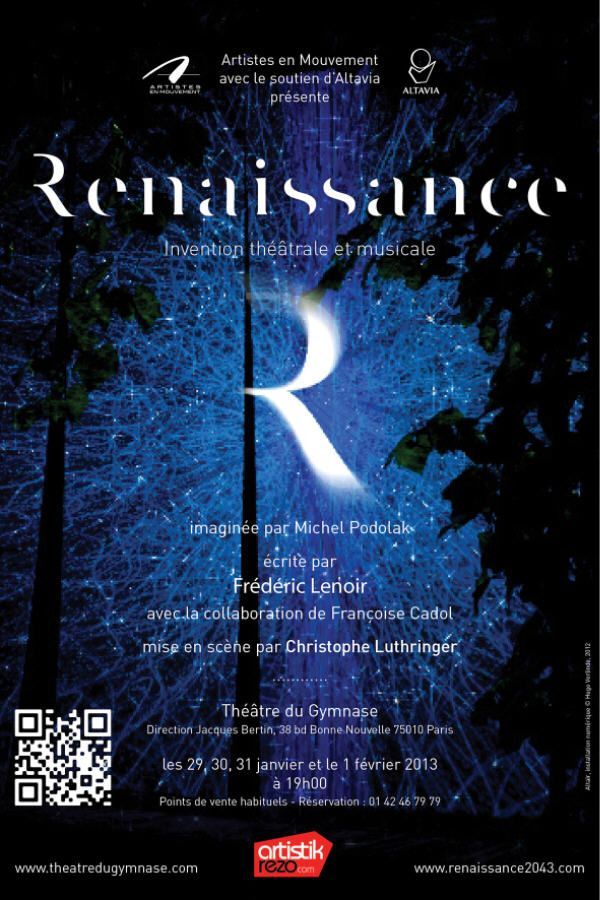 Designer: Michel Podolak
Authors: Frédéric Lenoir in collaboration with Françoise Cadol
Artists: Estelle Andrea, Etienne Avronsart, Pierre Bessière, Luc-Emmanuel Betton, Anne-Sophie Durand, Séverine Maquaire, Emilien Marion, Magali Palies, Michel Podolak, Jean-Claude Sachot
Director: Christophe Luthringer