Comic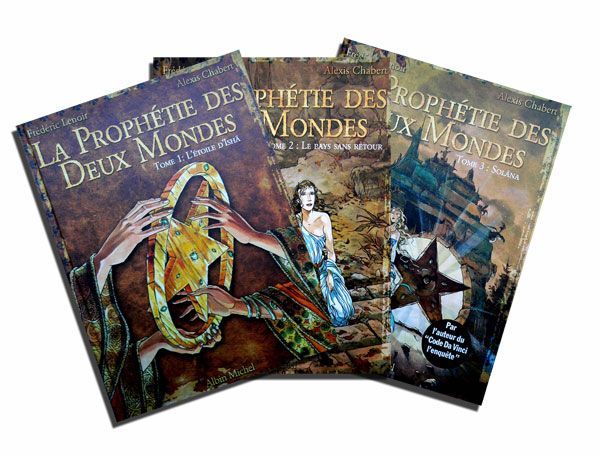 Saga in 4 volumes by Albin Michel
Scenario written by Frédéric Lenoir
Drawings by Alexis Chabert
Publisher: Albin Michel
Volume 1 The star of Ishâ , 2003
Volume 2 The land of no return, 2004
Volume 3 Solâna , 2005
Volume 4 The night of the oath , 2008
"On the seventh day of the ninth month, when the three stars are united, the legitimate sovereigns of the two Kingdoms will go by night to the Isle at the center of the Worlds.
When the dawn of the eighth day breaks, they will take the sacred Ring and Star.
They will raise them above the black stele, remembering the command I left them. But if once the Great Ritual cannot take place, then the Worlds will be destroyed in a cyclone of fire. And no one will remain."
In order to maintain peace and harmony between the kingdoms of the Lower World and the Upper World, Ishâ, the Envoy of the Eternals, once transmitted to the two kings a Star and a Sacred Ring. Every twenty-one years, the Star and the Ring - symbols of Light and Love, the two forces which govern the universe and become the emblems of the two peoples - must be gathered on the Island of the center. of the Worlds. Twenty years ago, a tragedy occurred after the sacred ritual: the Star and Princess Lariana mysteriously disappeared. The searches were in vain. If they are not found within a year, the prophecy of lshâ announces the destruction of the Worlds. Lowen, son of Heloas, king of the kingdom of the Ring, goes underground in search of them in the kingdom of the Star. The adventure begins for the young prince… an adventure of innumerable surprises and twists and turns, which will gradually take the form of an initiatory journey and a love story that will overturn the order of the Worlds.
What the press says



"The prophecy of the two worlds… a saga inspired by great universal myths, a mystical quest written by the imaginative scriptwriter of the "Promise of the Angel" and delicately laid out by Alexis Chabert…" La Libre Belgique
"Hounded by the henchmen of a formidable Amazon, Prince Lowen and the beautiful Solâna had to separate. In this third volume, we find them reunited to face new trials: free Princess Lariana and find the Sacred Star before the world falls back into chaos. Drawn by Alexis Chabert whose line gives a certain charm to the drawing, this album is interesting for the screenplay by Frédéric Lenoir…The story captivates and confirms the birth of a great series » Zurban